Objective: To add variety into the copy created by the content team, reduce monotony-related fatigue, and speed up content creation 
Solution: Employ an AI-based copywriting tool 
Results: 
30% faster email creation;
stable or improved email campaign metrics.
One of the email strategies employed by InboxSuite's clients is daily reminders. One idea has to be sent and re-sent and then re-sent again in order to coax the audience into responding or performing a target action. But sending the same email over and over will only cause annoyance, so the idea has to be delivered in different ways. The copywriters have to stretch their creativity beyond limit to come up with versatile, reader-friendly, and, most importantly, selling texts. But this is, obviously, not always humanly possible.
Jasper turned out to be the best solution to the problem. It offers a variety of copywriting options, from headlines and titles to more complex copy for landings, emails, ads, banners, websites, and social media. Jasper can write a completely new piece based on your keywords or requests or rewrite your content. The latter, of course, has become the most common job the content team hands over to the AI. It can create numerous versions of the same email with completely different wordings while keeping the initial idea intact. 
There is a free trial period, after which one has to purchase an account plan. The cheapest option is $290 per year, but its limits are quite generous, so it allows to produce a sufficient amount of content. It won't be able to create a longread article from scratch, but any shorter form content is within its scope of abilities. 
Pros and Cons of Using an AI-Based Copywriting Tool
The text has to be edited by a professional human copywriter before you can put it to actual use because sometimes even the AI can slip and create nonsensical copy, especially at the end of a text. 
Jasper tackles email bodies, and then human copywriters edit it slightly to ensure everything is acceptable and create the remaining parts: pre-header, header, and CTA/buttons. Thus, the time needed to create a single email is cut almost in half—from 30 to under 20 minutes.
Unfortunately, Jasper does not produce great subject lines—they turn out too bland. To secure a high open rate, the content team designs quirkier, more gutsy subject lines whose chief goal is to draw attention.
Jasper gives the content team a head start when they are faced with voluminous—and urgent—tasks. It saves time and supplies ideas in abundance, which, considering the limited time at hand, is not always humanly possible.
AI Copywriting in Action
Here's a quick example: our copywriter created a single email, uploaded it to Jasper, and asked the AI to rewrite the given copy six times. Then the copywriter checked the resulting texts, edited them slightly and supplied them with all the necessary elements that Jasper could not help with. 
The original email: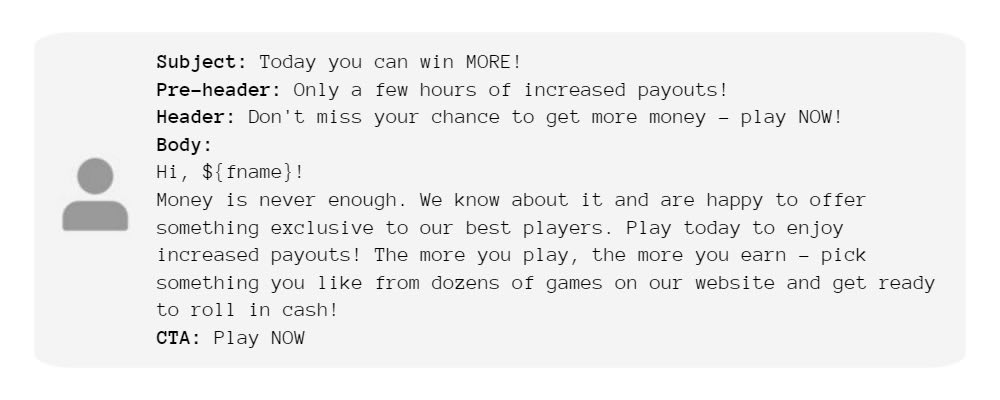 And here are six more emails, whose bodies were generated by Jasper, undergone minimal corrections by a human copywriter, and then supplied with subject lines, pre-headers, headers, and CTAs: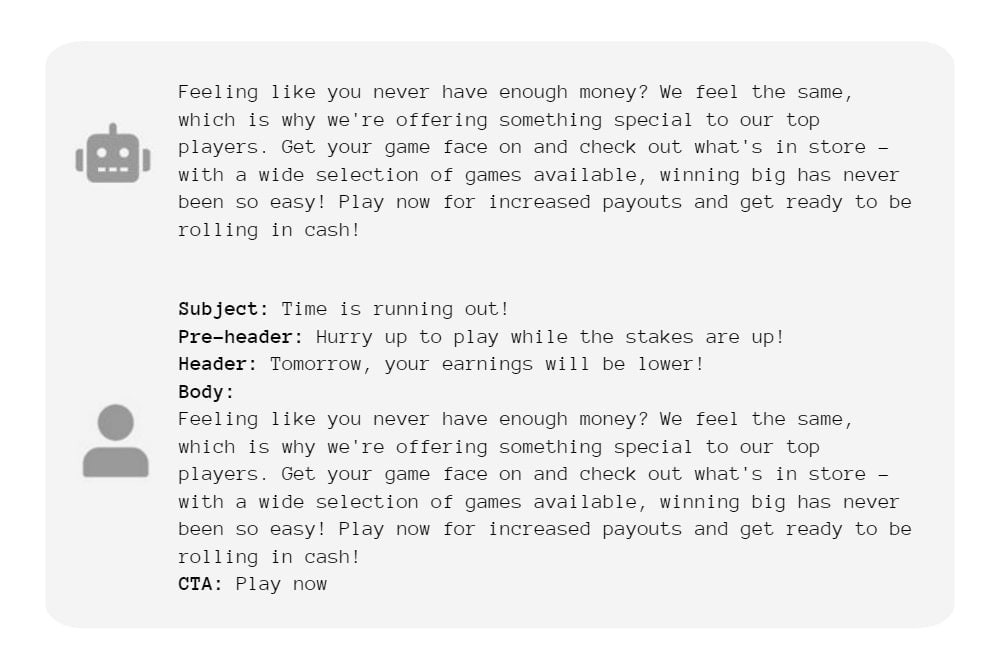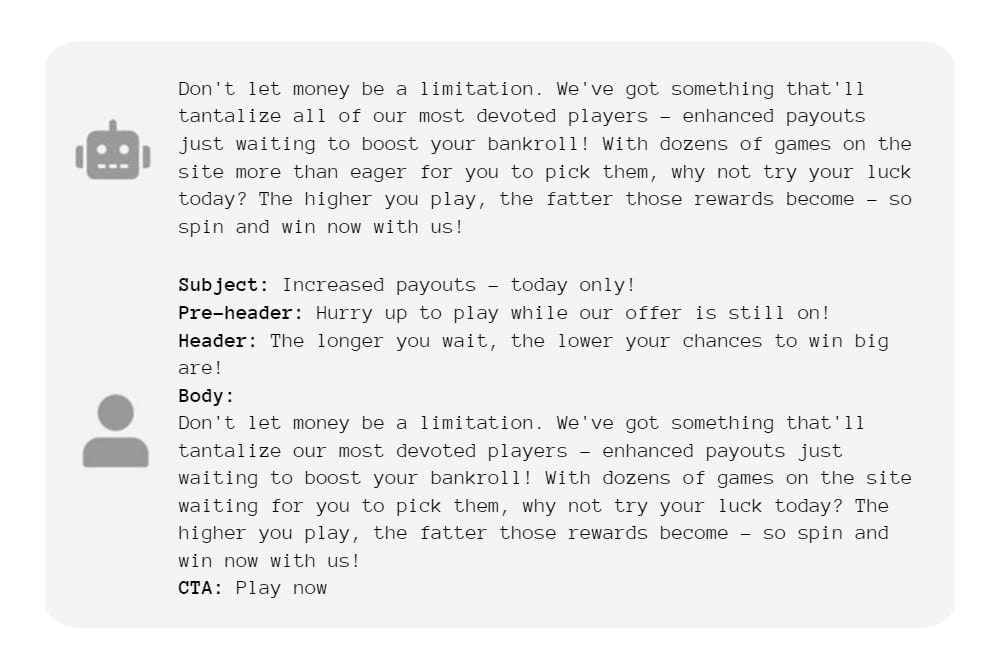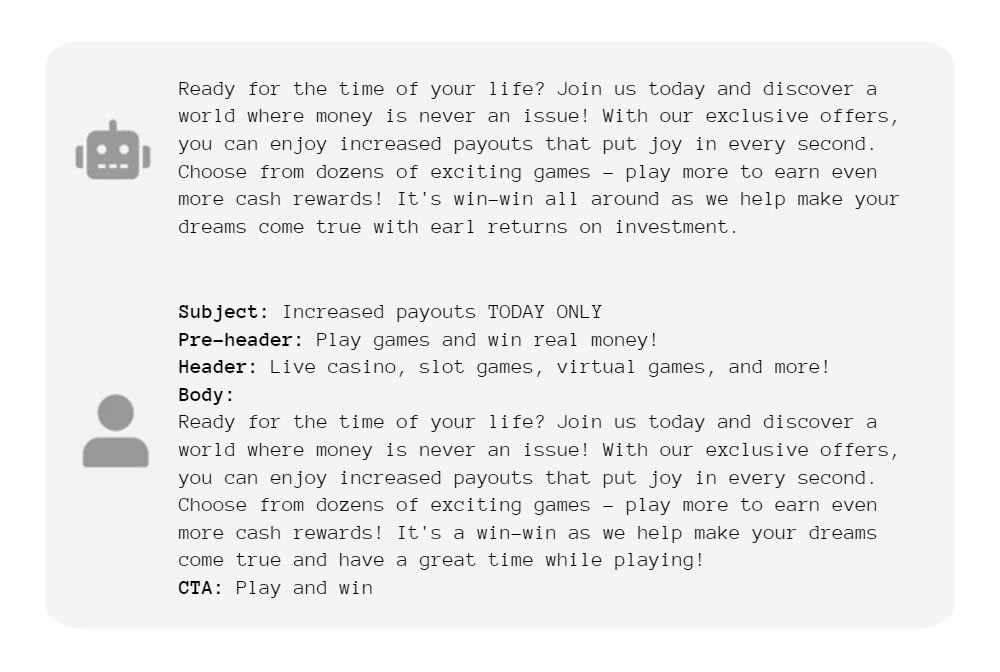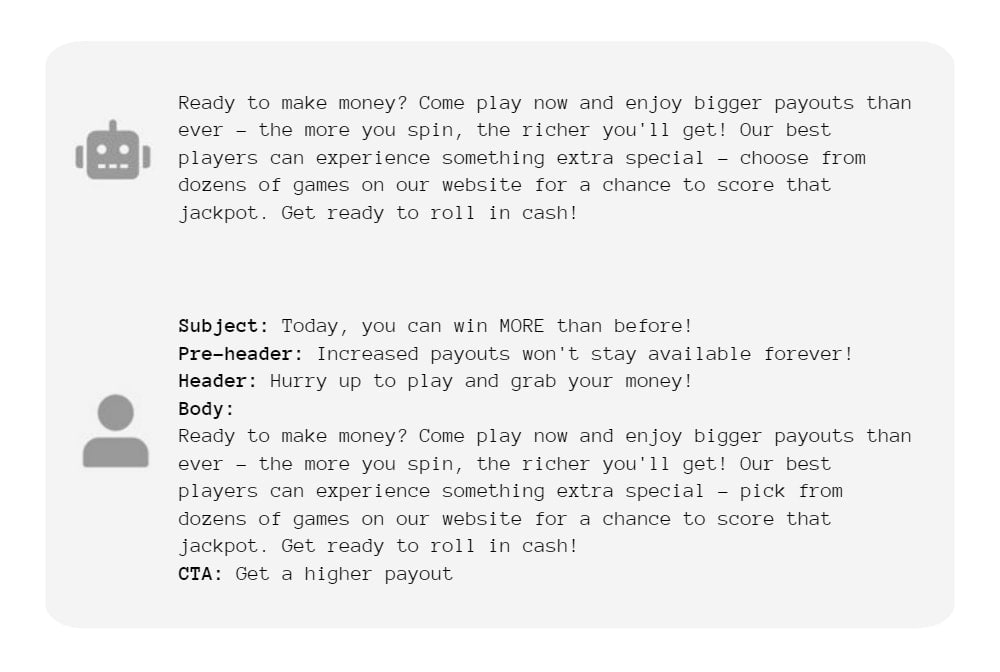 Email Campaign Results
The open rates of the emails created with the help of Jasper are almost always acceptable. However, Jasper doesn't really affect this metric because the subject lines are always written by human copywriters.
The click rates vary from high to disastrous. The latter is only the case if an email is sent to a tiny audience segment. On average, the click rate is 3-4%, but as you can see, for this email series, the figures are considerably higher—thanks to the clever collaboration of humans and AI.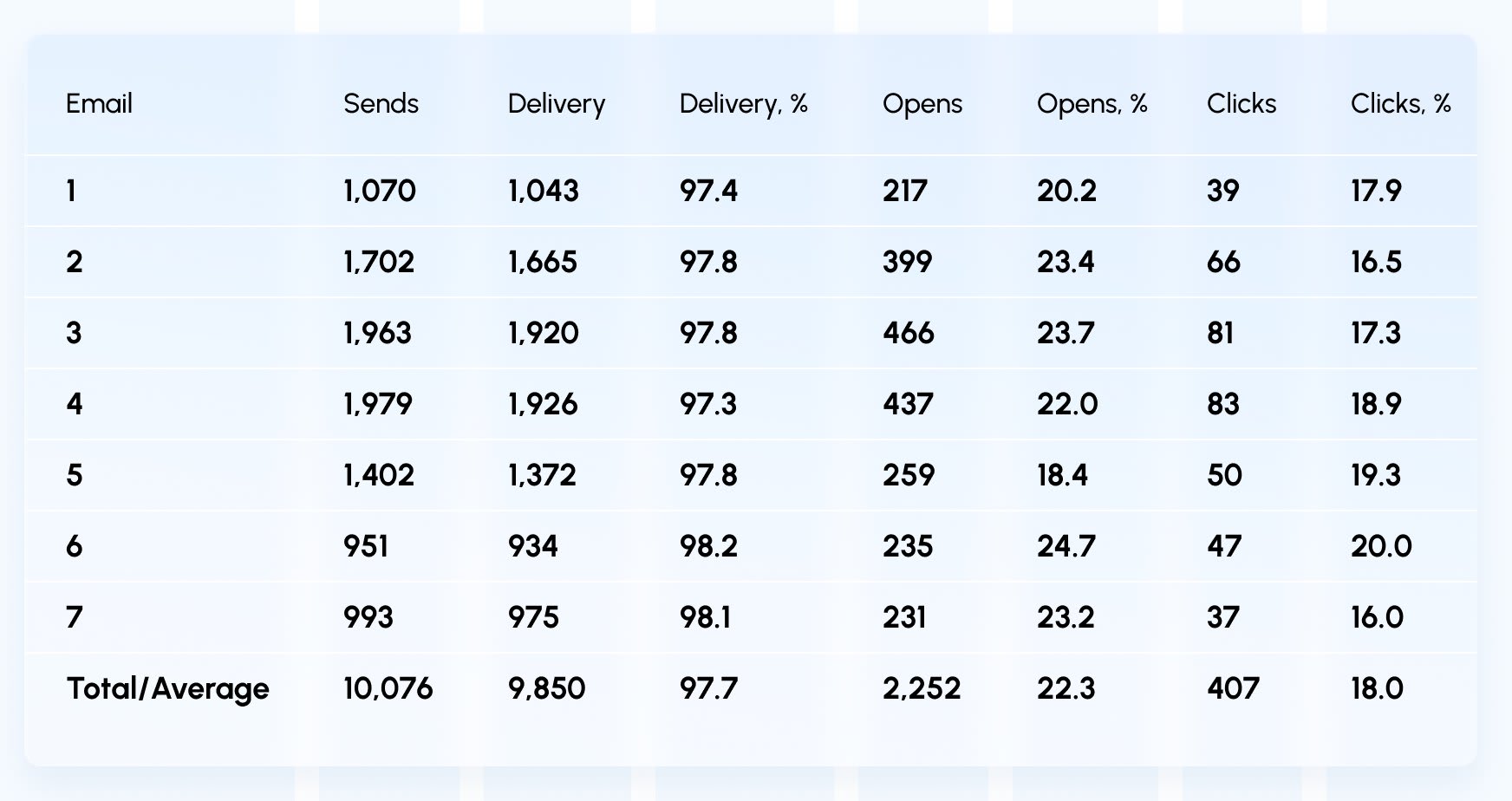 Conclusions and Further Use
Purchasing an account plan with Jasper has proved to be a wise financial investment. Firstly, the investment itself was quite manageable, so there could be no disappointment with the results. But the results were brilliant: with the small headcount and great big volumes of content the team has to create, Jasper is a life-saver.
The content team at InboxSuite will continue using the helpful AI tool until the end of the subscription term without purchasing additional packages—the basic account plan is quite generous and satisfies every need the team has.